描述
KLT FURNITURE-KTD201 Student Learning Desk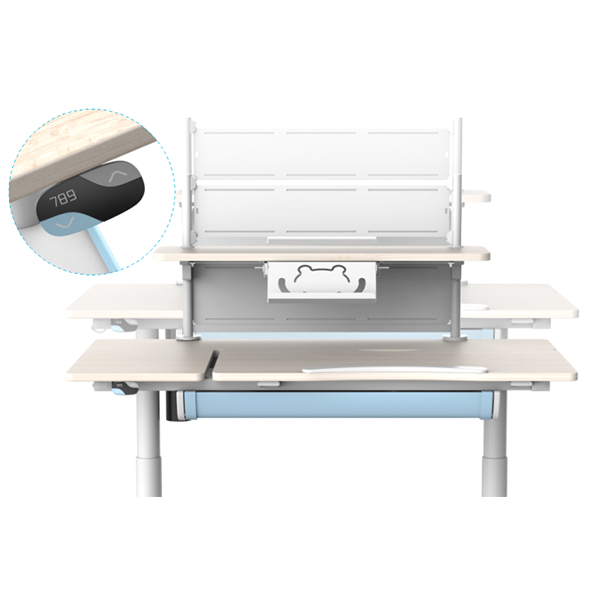 Load capacity: 40 kg (hook: 10 kg)
Happy Learning Perfect for Homeschooling
help organize your kid's space and keep their room clutter-free
Adjustable children's study table

nurture children

Segment Tilt Adjustment

Anti-Punch Design

storage drawer

Top plate size: 1000 x 600 x 18 cm

Color: pink, white

Body weight: 29 kg

Load capacity: 40 kg (hook load 10 kg)

Panel type: button press

Lifting range: 550 to 890 mm

Maximum speed: 15mm / s

Leg stage: Two stages
Keep our kid a proper sitting posture with a height-adjustable desk
Good posture helps us stand, walk, sit, and lie in positions that place the least strain on supporting muscles and ligaments during movement and weight-bearing activities.  

Helps us keep bones and joints in correct alignment so that our muscles are used correctly, decreasing the abnormal wearing of joint surfaces that could result in degenerative arthritis and join pain.

Reduces the stress on the ligaments holding the spinal joint together, minimizing the likelihood of injury.

Allows muscles to work more efficiently, allowing the body to use less energy and, therefore, preventing muscle fatigue.
Waterproof round top plate
As it is waterproof and clear coated, there is no need to worry about ring stains due to water droplets. It is also hygienic because it can be easily cleaned with a regular rag and cloth.

The shape of the top plate is rounded and highly safe.
Help organize your kid's space and keep their room clutter-free
A hook for the bag is attached right next to the desk. This is convenient when you can hang your bag, and it is useful when you have no place to put your child's bag, such as when studying or working.

It is strong enough to withstand heavy loads.
Safety and stability of bottom reinforcement
With a device that prevents collisions with rounded corners on the edges of the feet, you can rest assured that even if you accidentally hit your child, you will not get scratched.

You can stabilize the entire desk and prevent it from shaking.
Comfortable to support your waist
Height range: 77.5-87.5cm
The S-curve is perfect for your back.
Advanced elastic mesh
Size of back: 49 x 39.5cm

Size of cushion: 42 x 38.5 cm
With elastic mesh, you can lean your whole body to the chair. 

Breathable mesh from back to seat.

You can sit comfortably even in midsummer.
360°casters
Locking function: When the weight is over than 20kg, the casters will automatically lock which contributes to focus on learning for children.
You can move around smoothly no matter forward and backward.
>>Why do Children need height adjustable desk?
Adjustable children's study table

nurture children

Segment Tilt Adjustment

Anti-Punch Design

storage drawer

Top plate size: 1000 x 600 x 18 cm

Color: pink, white

Body weight: 29 kg

Load capacity: 40 kg (hook load 10 kg)

Panel type: button press

Lifting range: 550 to 890 mm

Maximum speed: 15mm / s

Leg stage: Two stages
The Kid ergonomic table is specially designed to meet the needs of children's learning. The learning adjustable desk has a 40-degree inclined plate reading angle, which is adjusted to the correct desktop angle, the back is naturally straight, and the shoulders and neck are relaxed. The ergonomic design can adjust the height of the table and chair according to the height to protect the healthy growth of children's spine. Our Kid ergonomic table is made of non-toxic materials to protect children's health. It is an inevitable choice for children to learn and grow up with them!
兒童升降枱專為滿足兒童學習需求而設計,兒童書桌特有40度斜板的閱讀角度,調校至正確的桌面角度,背部自然挺直,肩頸放鬆。符合人體工學設計,可配合身高調節桌椅高度, 保護兒童脊椎健康成長。我們的兒童升降桌均用上無毒物料製造,保護兒童健康,是兒童學習必然之選,一起陪孩子一起長大!